30 Galamsey Excavators are seized by the military.
This comes after a string of actions carried out over the course of three weeks at Kade, Ofoase, Oda, and Pra Anom along the banks of the Birim and Pra Rivers in the Southern Command Area of Operational Responsibility.
The actions were carried out along the River Offin at Yawkrom, Agroyesum, and Takorase in the Central Command Area of Operational Responsibility. The turbidity of these Rivers has gradually improved as a result of these effective efforts.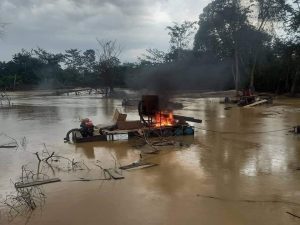 Regarding arrests, the Operation Halt II team detained eight alleged unlicensed miners at Banda Nkwanta in the Northern Command Area of Operational Responsibility and sent them to the Banda Nkwanta District Police Station.
In order to implement the required measures for Ghana's socio-economic development, the Ghana Armed Forces appealed for everyone's cooperation. They reassured the public of their commitment to the battle against illegal mining on riverbeds and in forest reserves.